Great Wine Capitals Global Network announces six 2021 International Best Of Wine Tourism Awards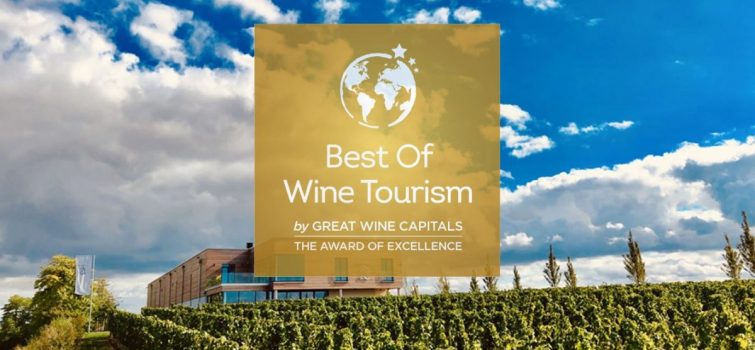 The General Assembly of the Network has been held this year from 1st to 6th November, in a virtual format, including the meeting of the Jury of the International Best Of Wine Tourism Awards.
These prizes recognize outstanding wine tourism initiatives who exhibit standards of excellence. Since the first edition, 5.290 companies have entered the contest, and 805 candidates have received an award.
In this 18th call, 6 cities – Adelaide, Cape-Town & the Cape Winelands, Mainz-Rheinhessen, Mendoza, Porto and Verona – have organized their local competitions, with 217 participants and 40 local winners in total, a sample of the strength, dynamism and excellence within the wine tourism industry.
The 2021 International Best Of Wine Tourism winners are:
A massive Angelus Bell dating back to the 1600s announces the beginning of the harvest every year at this wonderful property, named in the Aboriginal Australian language -Wirra Wirra means "among the gum trees"-. The visitor can enjoy marvellous sit-down tasting flights, their renowned outside restaurant, private dinning spaces, and vibrant experiences like hurling watermelons with a medieval trebuchet…Wirra Wirra has kept on investing to improve their premises during COVID-19 lockdown.
Creation Wines (Cape Town, South Africa)
Wine tastings at Creation Wines are always a complete immersion into the entire experience of wine. On the back of COVID-19 this winery situated in the picturesque Hemel en Aarde Valley, launched the virtual tasting packs to allow their customers to enjoy a sensory and guided tasting of 6 wines in the comfort of their own homes. Another innovative initiative is to assign one "tasting ambassador" from the Creation Team to each visitor, limiting guest´s interaction to that one person and ensuring exclusive attention and engagement.
Weingut Thörle (Mainz – Rheinhessen, Germany)
In the middle of an impressive sea of vines at the Grand Cru locations Schlossberg, Hölle and Probstey, the Thörle Winery emerges as a set of very modern pleasure spaces. The stylish vinotheque invites (inter)national guests to taste noble top wines -from Riesling to Pinot Noir and Silvaner- at the granite wine bar, in front of the glass front with limestone walls, walk-in wine climate control cabinet and barrique cellar. Thörle leaves nothing to be desired.
Superuco Winery, located in Los Chacayes, at the heart of the Uco Valley, is an international reference as far as biodynamic practices and organic wines are concerned. The Michelini family looks for the perfection to get Holistic Sustainable Wines: production of organic compost to feed the soils, the vineyard circle planting, minimization of chemical components in elaboration processes, the use of indigenous yeasts, traditional methods to extract the juice from the grape -foot treading-, among other practices. This winery hosted the 9th International Biodynamic Viticulture meeting in November 2019
In an atmosphere of calm and intimacy, this superb hotel, located in a 30-ha wine estate, part of the Vinho Verde wine route, connects accommodation to wine production. It offers 46 rooms, 10 of which are suites, equipped with their own terrace overlooking the vineyards, swimming pool -heated by solar panels-, sunbeds, an outdoor shower with rain effect, a garden,  a gas fireplace, facing both the room and the terrace, and a private wine cellar, everything perfectly integrated in the surroundingsThe property also offers several spaces and activities related to wine and vineyards, ., providing guests an immersive experience.
The gratitude to its territory is the core that inspires the initiatives of this winery, heir to a more than 400 years old family tradition. At this moment, they are involved in projects such as protecting autochthonous varieties and vineyards, as well as insolation and characterization of indigenous yeasts in Valdadige. They also apply the technique of sexual confusion to reduce pesticides using insect pheromones. A good example of commitment with sustainable development.